Gunakan Server Lainnya Jika Server 1 Error.. Selalu Gunakan Browser Chrome Terupdate! Join Grup WA & FB ya chinguuu...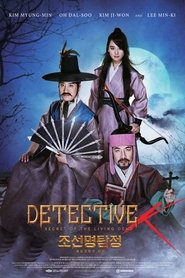 Detective K: Secret of the Living Dead (2018)
Nonton Detective K: Secret Of The Living Dead (2018) Subtitle Indonesia
When a series of unusual murders occurs, Detective K (KIM Myung-min) and his partner (OH Dal-soo) are once again called into action as they discover a trail of bodies with mysterious bite marks.
Ketika serangkaian pembunuhan tidak biasa terjadi, Detektif K (KIM Myung-min) dan rekannya (OH Dal-soo) sekali lagi dipanggil untuk beraksi ketika mereka menemukan jejak tubuh dengan bekas gigitan misterius.
Duration: N/A
Quality: HD ▶
Release: 2018