Gunakan Server Lainnya Jika Server 1 Error.. Selalu Gunakan Browser Chrome Terupdate! Join Grup WA & FB ya chinguuu...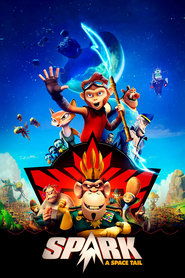 Spark: A Space Tail (2017)
Spark, a teenage monkey and his friends, Chunk and Vix, are on a mission to regain Planet Bana – a kingdom overtaken by the evil overlord Zhong.
Views: 128
Genre: Adventure, Animation, Comedy, Family, Science Fiction
Director: Aaron Woodley
Actors: Alan C. Peterson, Athena Karkanis, Hilary Swank, Jace Norman, Jessica Biel, Patrick Stewart, Susan Sarandon
Duration: 91 min
Quality: Bluray
Release: 2016