Gunakan Server Lainnya Jika Server 1 Error.. Selalu Gunakan Browser Chrome Terupdate! Join Grup WA & FB ya chinguuu...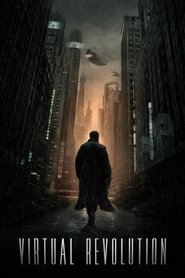 Virtual Revolution (2016)
Paris 2047. Most of the population spend all their time online, connected into virtual worlds, and don't care anymore about reality. A shadow agent, Nash, working for one of the multinational companies behind these virtual worlds, is tracking down terrorists who threaten the system…
In a world where most of the population spend their time online, inside virtual worlds, Nash is a hybrid. Half of the time online, the rest of the time, in the real world, he is a private investigator/killer, hired to track down and eliminate the terrorists who threaten the system and who killed his girlfriend. Torn between the past and the future, between virtual and real, Nash ends up having to take some decisions that will impact his life, but also the society he lives in.
The year is 2047. Most of the world's population live inside corporate-controlled virtual worlds and drift further out of touch with reality. Nash, a private investigator/ mercenary is hired to track down a group of hackers who are disrupting and terrorizing the virtual space in a bid to free human beings from their online prisons.
Duration: 92 min
Quality: Bluray
Release: 2016